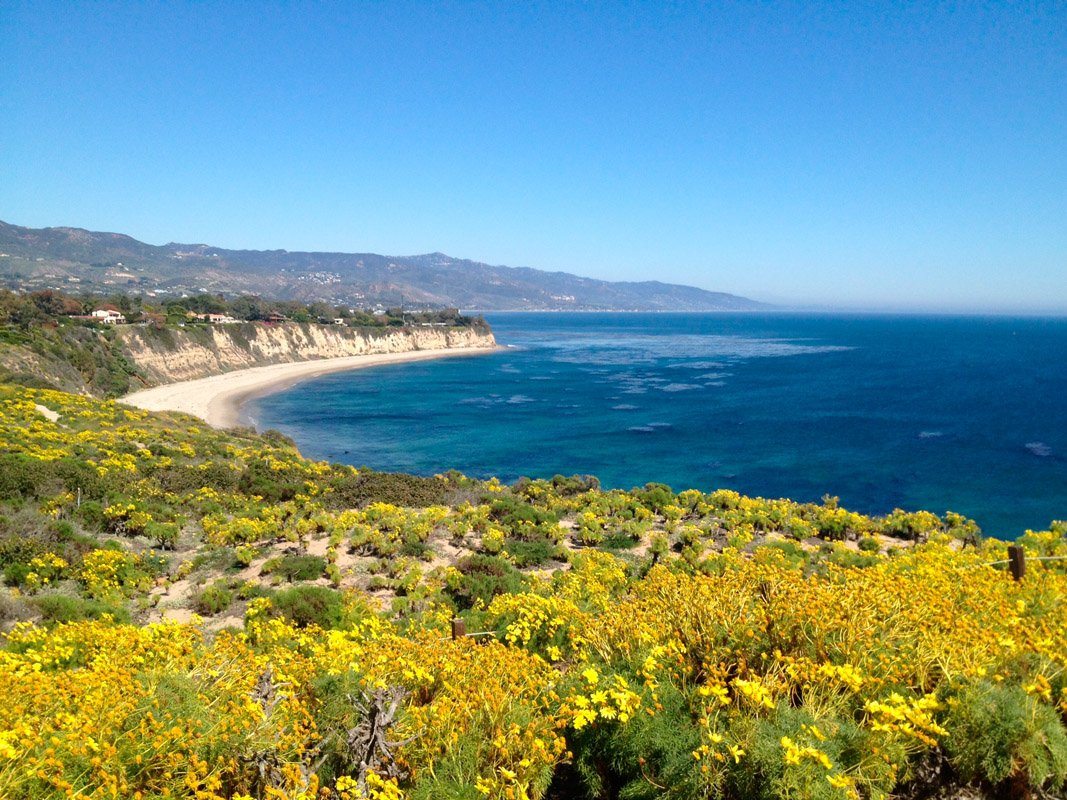 Also known as the "Malibu Riviera," Point Dume is one of Malibu's most sought after locations. It is Malibu's only ocean-side community, with its own Elementary School and lushly landscaped properties. As a Point Dume homeowner and resident, I can attest to the wonderful quality of life this neighborhood provides. Highlights include great beaches and accessible shops and restaurants at Point Dume Village. Residents can often be seen walking, riding bikes, or driving golf carts to the beach entrances or local supermarket. Point Dume has a unique "je ne sais quoi" essence that draws in residents who never want to leave.
The bluffs of Point Dume are home to some of Malibu's most exquisite residences and estates. With breathtaking views, large lots, and access to the area's best beaches, this neighborhood has some of the most desirable real estate in Malibu. It is home to many A-list celebrities, surf enthusiasts, and high-net-worth business people. It is the only large "neighborhood" on the PCH beach side—with about 400 homes. Many homes have ocean or mountain views. Some homes have deeded access rights to the beach, with entry at one of the several private gates.
Homes range from single story "original" ranch-style on lots that average an acre (which are extremely large for parcels on the ocean side of the PCH) to larger homes along the perimeter and bluff streets. There are also luxurious homes with panoramic ocean views on the picturesque secluded edges of the cliffs, or bluffs. Point Dume homes exhibit a wide range of architectural styles.
Beaches
Point Dume beaches range from traditional Southern California wide, sandy beaches, such as Westward beach, to more unique and private beaches, such as "Big Dume" and "Little Dume" beaches, which sport extensive tide pools and famous surfing spots. The south-facing "Little Dume" beach is a well-known and sought-after locale by experienced surfers. Access to these beaches are through locked gates.
The Sand Dune
The sand dune is an ancient coastal bluff that is now Point Dume State Beach and Point Dume State Preserve. It includes headlands, cliffs, rocky coves, and vast beach access. On a clear day, the view is spectacular—encompassing the entire Santa Monica Bay, north Malibu Coast, inland Santa Monica Mountains, and Catalina Island. Point Dume is the perfect place to watch for California gray whales during the December to March migration period.
Point Dume Historical Highlights
In 1925, Point Dume was merely a barren, remote, and windy peninsula with no roads or even trees.
The original Malibu railroad dissected its mid-section.
In 1929, the Roosevelt Highway—now the PCH—was constructed avoiding Point Dume by leaving the shoreline at Paradise Cove and returning at the edge of Zuma Beach.
For many years, Point Dume's barren remoteness made it unattractive and it remained inexpensive. For example, in the 1960s a house on an acre could be bought for only $35,000!
Point Dume's humble history ended in 1984 when Johnny Carson bought a gated estate on the Bluffs for a then record $9 million. After that, many other renowned Hollywood celebrities bought and built homes. Today, Point Dume is a desirable locale and property prices range from $2.1 million to $40 million.