Topanga Beach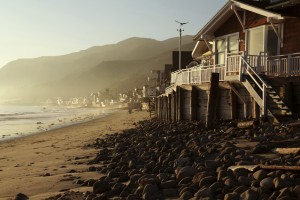 Homes in the Topanga Beach neighborhood have breath-taking views stretching from Santa Monica to the west. This coastal neighborhood includes a small grouping of homes on the beachside of the Pacific Coast Highway, and on Topanga Beach Road, a short, private street. Like Big Rock Beach, homes are a mix of single family and multi-family, set on pilings reaching over the ocean.
Topanga Beach is the closest Malibu beach to Santa Monica. The beach is a wet, rocky type. Boasting a smooth, continuous right break, Topanga Beach is a popular surfer's spot. It used to be a state beach, but is now owned and operated by LA County. Also nearby is Topanga State Park in the Santa Monica mountains, with hiking trails and mountain biking.
Las Tunas County Beach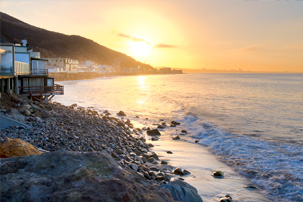 Las Tunas is a small rocky beach in eastern Malibu. Las Tunas homes are a mix of single-family and multi-family residences on the beach, with varied architectural styles. The neighborhood is one where the space between the beach and mountains is one of the narrowest in Malibu, making this the essential "where the mountains meet the sea" locale. Along the landside are steep cliffs. The beach is mostly used as a public fishing spot.
Big Rock Beach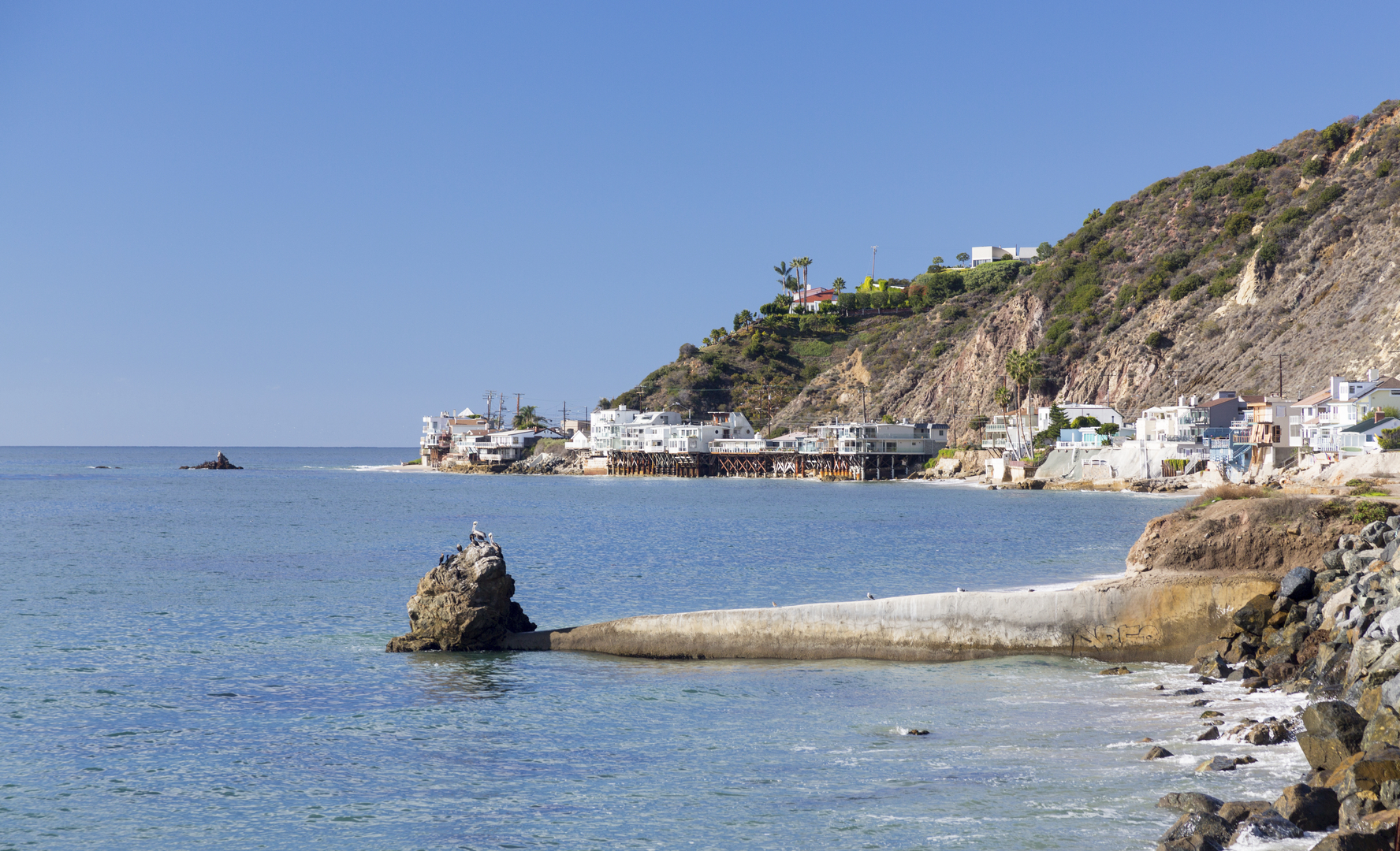 Big Rock Beach is another special location where the mountains meet the sea. This narrow and rocky beach is known for its stunning beauty and incredible views from beachside windows and decks. A short stretch of waterfront homes include a mix of single-family and multi-family units set on pilings reaching over the ocean.
The beach is accessible only at low-tide, and seals are often seen sunning themselves on nearby rocks over the waterline. Because the mean high tide line is at the back of the beach, this beach is always classified as public. As there is no public parking nearby, chances are you'll have the sandy shore to yourself during low tide.
Las Flores Beach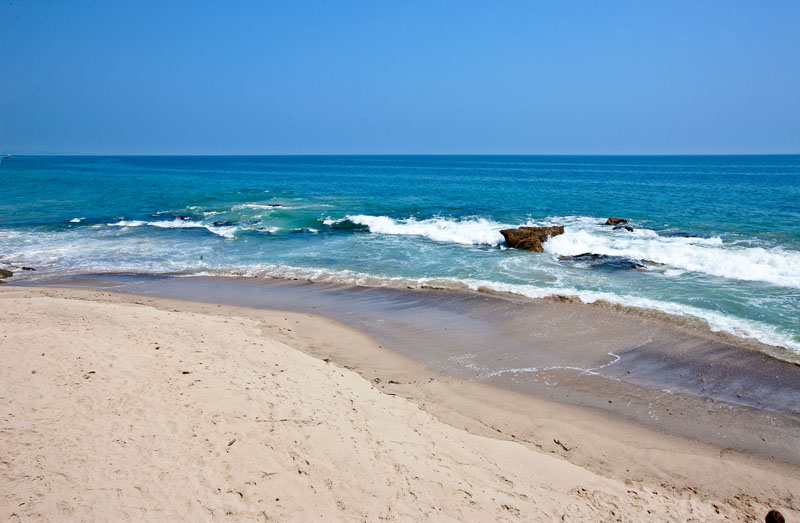 Las Flores Beach is located east of Las Flores Creek where it crosses under Pacific Coast Highway near Las Flores Canyon Road and Duke's Malibu Restaurant. Las Flores Beach is affectionately known as "dog beach" and is one of those often photographed sections of Pacific Coast Highway with "wall-to-wall" homes. The homes are directly on the PCH with many of them built above a narrow and sandy beach that is frequently underwater at high tide. Sea lions are often seen in the ocean.
Homes include single family, duplexes, and triplexes. The area has been undergoing a gradual upgrading with better designed and constructed homes.
La Costa Beach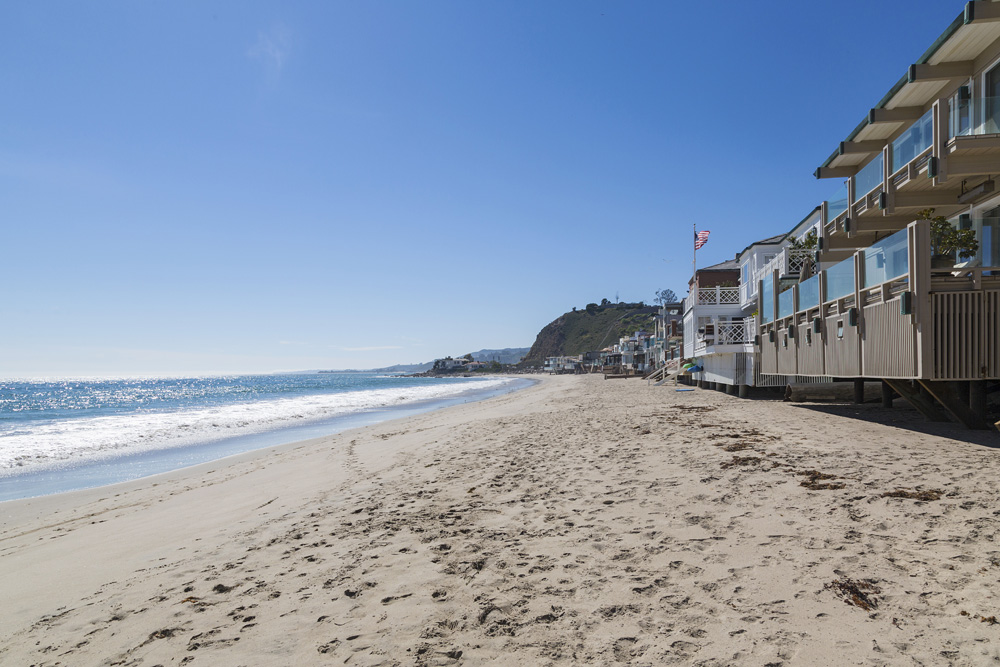 The La Costa area, along Pacific Coast Highway between Rambla Vista and Las Flores Canyon Road, was one of the first Malibu areas to be developed along the Pacific Coast Highway. Homes range from original styles to ones that have been remodeled. The beach is wet during high-tide and somewhat rocky.
There is a private, friendly, and family-oriented beach club (La Costa Beach and Tennis Club) centered on this cove that gives homes across the PCH access to La Costa Beach. Carbon beach, just to the west, is accessible during low-tide.
Carbon Beach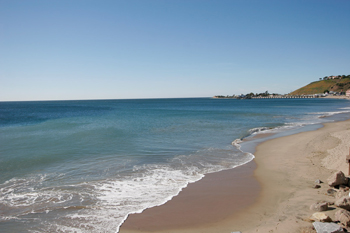 Also known as "Billionaire's Beach," this area boasts a pristine and dry beach, privacy, and notable architecture. It is one of the priciest beach areas on the Pacific Coast Highway mainly because of its spectacular views and extraordinary walking beach.
There are just 70 private residences on this stretch of beach. Many notable and elite business leaders and billionaires make their homes here, thus creating the nickname. Countless Hollywood A-list celebrities seeking privacy also live on this quiet stretch of pristine beach.
Carbon Beach is also home to the boutique hotel, Malibu Beach Inn, which boasts a popular oceanfront restaurant. On the eastern side of the hotel is famed Nobu Malibu, which is the finest oceanfront dining restaurant in Malibu, where Hollywood A-listers, business moguls, and Malibu residents mingle under clear skies with spectacular views of the coastline.
Malibu Colony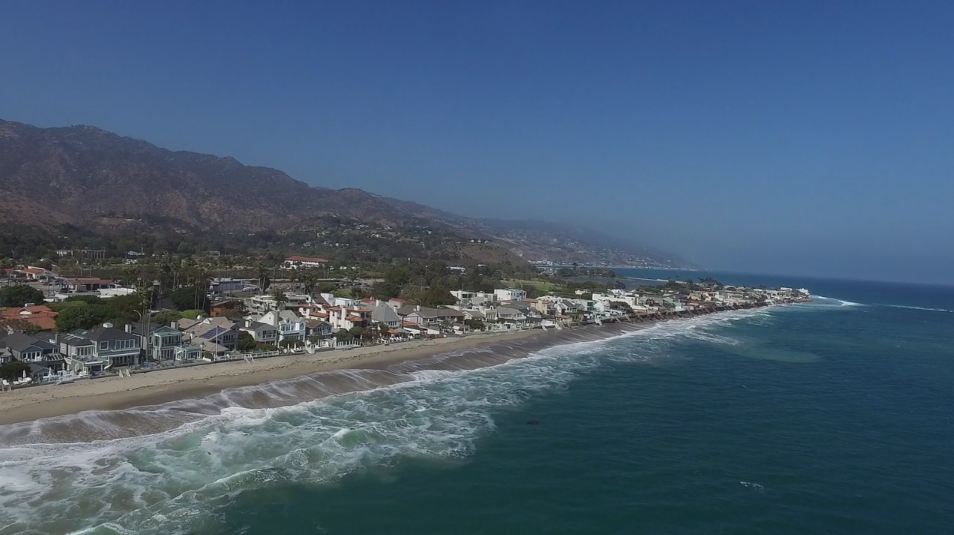 Malibu Colony is often called "the original Malibu." It is one of the most famous miles in the world. It became one of the first desirable Malibu neighborhoods in the late 1920s when the widow of an oil and electric company magnate, May Rindge ("Queen of Malibu") owned all 27 miles of a then almost-unreachable and deserted coastline. In the midst of financial trouble, she began leasing beach lots to movie stars, giving birth to what became known as the exclusive "Malibu Beach Motion Picture Colony."
This is no doubt a star-studded locale. With just about 100 homes, and lots starting at 30 feet wide, Malibu Colony is a desirable location.
Today, celebrities and business moguls are drawn to Malibu Colony for its beautiful beach properties and privacy. During the summer, this guard-gated enclave is infused with multi-generational families and has a great summer vibe. It is located in close proximity to the iconic surfing spots 1st point and 3rd point. One of the few "true" neighborhoods of Malibu, residents of Malibu Colony go all out on Halloween, with decorations and effects that rival many horror film movie sets. July 4th is also quite spectacular, as the party atmosphere is prevalent throughout the street. The evening ends with a private barge firework display.
Malibu Colony is also ideally located close to the Malibu Country Mart, the Lumber Yard, and Malibu Village, which is the center of Malibu. In this quaint and approachable shopping center area, there are high-end boutiques, name-brand stores, and an array of fine and casual dining options like Tra di Noi, Café Habana, Taverna Tony's, Mr. Chows, Marmalade, Malibu Kitchen, Malibu Burger (Fall 2016). SunLife Organics, Malibu's premier juice-bar is also located in the Country Mart. Also nearby is the Malibu Colony Plaza, with retail stores, a grocery store, the Vitamin Bar, Malibu Yogurt, and hip restaurants like Ollo and Bui Sushi.
Malibu Road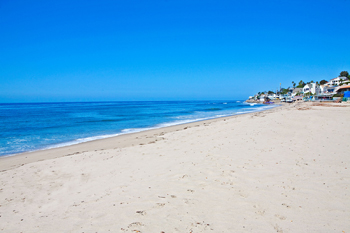 Malibu Road, just west of the Malibu Colony is also centrally located and has become one of the most desirable beach locations in Malibu. It is one of the destinations of choice for discerning buyers who want to live in one of the trendiest parts of town.
Malibu Road home styles—often featured in architectural and home design magazines—range from original beach cottages to exquisitely rebuilt beach residences. The area boasts incredible views of the coastline.
Malibu Road runs parallel to the Pacific Coast Highway for about 2.5 miles. It has one entrance, Webb Way.
Beachfront lots average about 50 feet wide by 100 feet deep. Landside homes are on larger lots ranging from 1 to 4 acres.
The eastern end of the road is known as "Malibu Road, Malibu Colony Beach," and has the widest sandy beach and some of the most expensive beach estates on Malibu Colony Beach.
Latigo Shores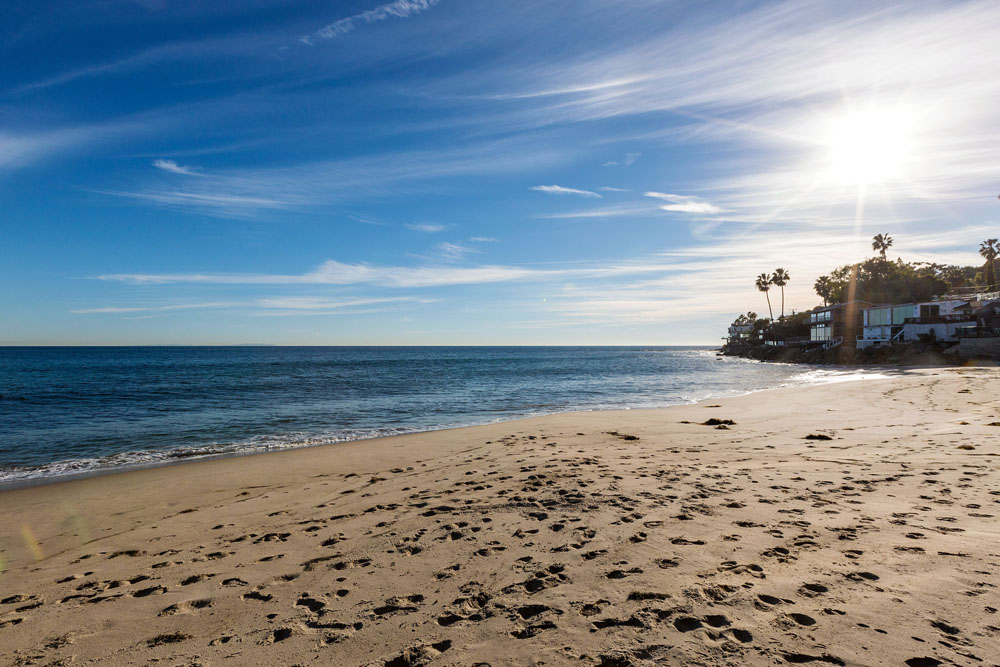 Latigo Shore Drive and Malibu Cove Colony Drive became private streets when the former Roosevelt Highway became Pacific Coast Highway and was re-routed over the bluff. The streets do not connect.
Latigo Shore Drive has a warm, wonderful, old-Malibu vibe with a beautiful sandy beach. Homes are a mix of cottage-style bungalows to newly-built architecturals.
Malibu Cove Colony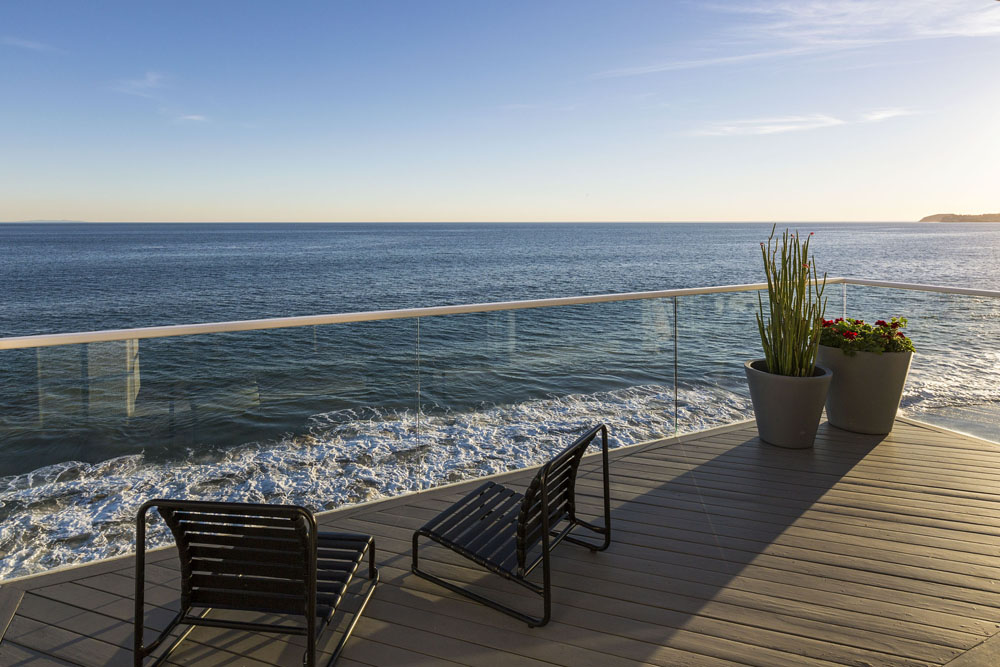 Malibu Cove Colony is a private, exclusive, and guard-gated street with custom homes on an intensely beautiful beach. It is known for its high-profile, low-key inhabitants.
The area has edge-to-edge homes that are rebuilt or remodeled. Original homes were built in the late 1950s.
Escondido Beach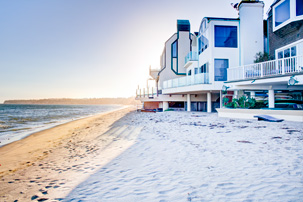 Escondido is Spanish for "hidden" and that is essence of Escondido Beach. The Escondido Beach Road is a small dead-end private street that forks from the Pacific Coast Highway and runs parallel to the beach.
The homes are a combination of original beach homes and new construction designed for openness and relaxed beach living.
Escondido beach homes front on a deep sandy beach that stretches to Point Dume. Scuba divers are common at this beach because of the close proximity to the shore of reefs and a kelp forest that houses giant black sea bass and giant kelp fish. Kayaking is also popular here along with fishing from the beach.
One of Malibu's finest restaurants, Geoffrey's Malibu, sits on top of the bluff nearby.
Paradise Cove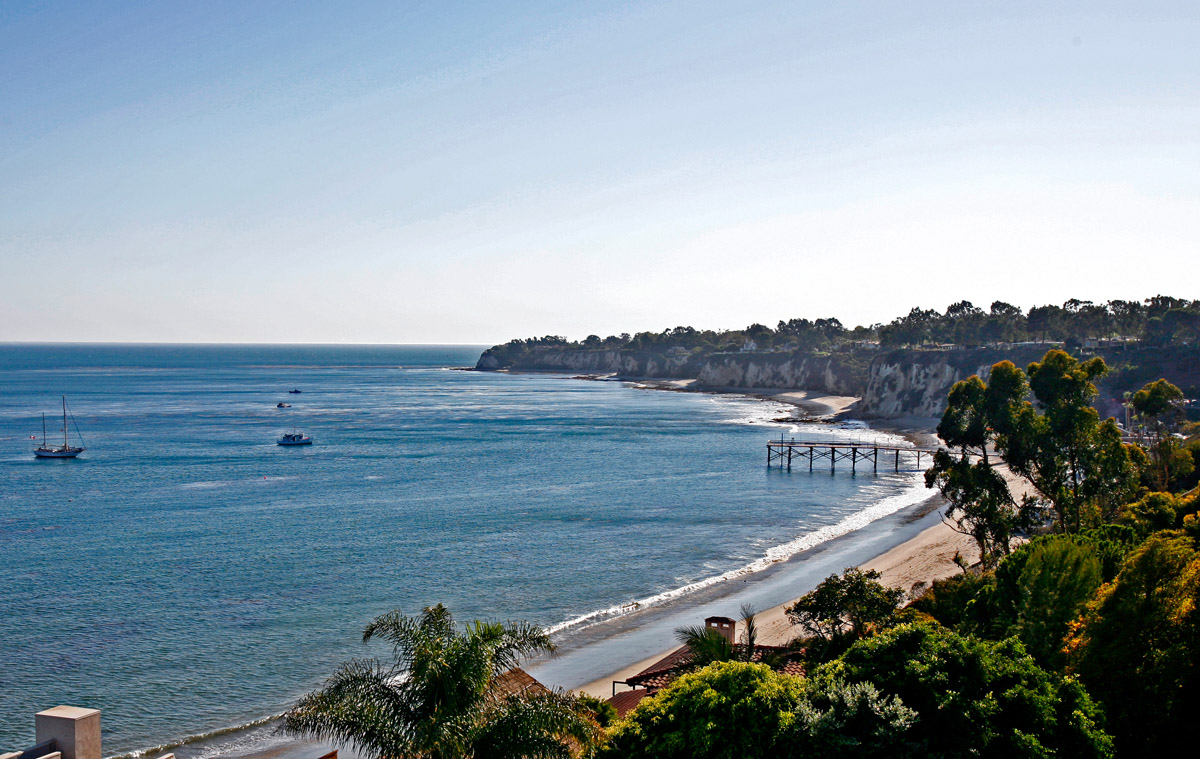 Included in this area is Paradise Cove Mobile Home Park, dubbed "America's Most Glamorous Trailer Park" by the NYTimes in 2015. With million-dollar views and hip residents, this mobile home park with about 270 mobile homes, draws in celebrities and residents who want to maximize the Malibu beach experience with little hassle. Residents enjoy a clubhouse, tennis court, basketball court, children's playground, and direct access to Paradise Cove and the private Point Dume beaches.
In addition to the Mobile Home Park, there are exquisite estates located on multiple acres that run from the Pacific Coast Highway to the beach.
The famed Paradise Cove Beach Café is located here and it is the only restaurant right on the sand in Malibu.
Broad Beach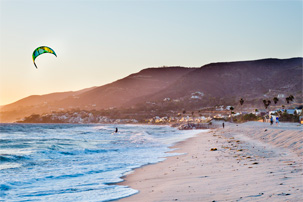 Broad Beach is truly quintessential Malibu. Located in west Malibu, the eastern end of Broad Beach Road joins PCH at the Trancas Canyon Road traffic light while the western end reconnects to the PCH just west of the Seafield Drive intersection. This 1.1 mile stretch includes about 100 beachfront homes, many of which are architectural triumphs. There are only a few undeveloped lots. If you're looking for a true beach retreat, consider the Broad Beach lifestyle. A quiet street with a neighborhood feel, this area has been a draw to Hollywood A-listers and business moguls looking for a slice of beach paradise away from it all.
Homes in this area are ideally located near the newly remodeled Trancas Center, a local hub for the west end of Malibu that includes Vintage Grocers, a Starbucks, retail stores, and a French restaurant, the Village Cafe.
Sea Level Drive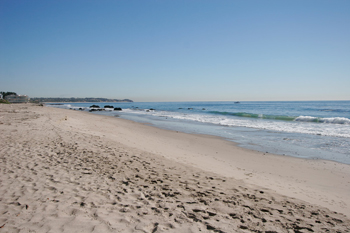 Sea Level Drive has two sections, both of which are among Malibu's most attractive and quaint streets.
East Sea Level Drive is along the beach. It forks off from the central portion of Broad Beach Road. Many of the homes are located across from the beach with gardens stretching along the edge of the road on the beach side. The ability to walk between the homes and the beach has helped engender a spirit of community. Homes are charming, with many East Coast cottages and contemporary homes.
West Sea Level Drive is a road that leads to the beach. It forks off from the western portion of Broad Beach Road. Homes are located on both side of the street leading to one of Malibu's most beautiful and hidden beaches. Both roads have gated entrances.
El Matador Beach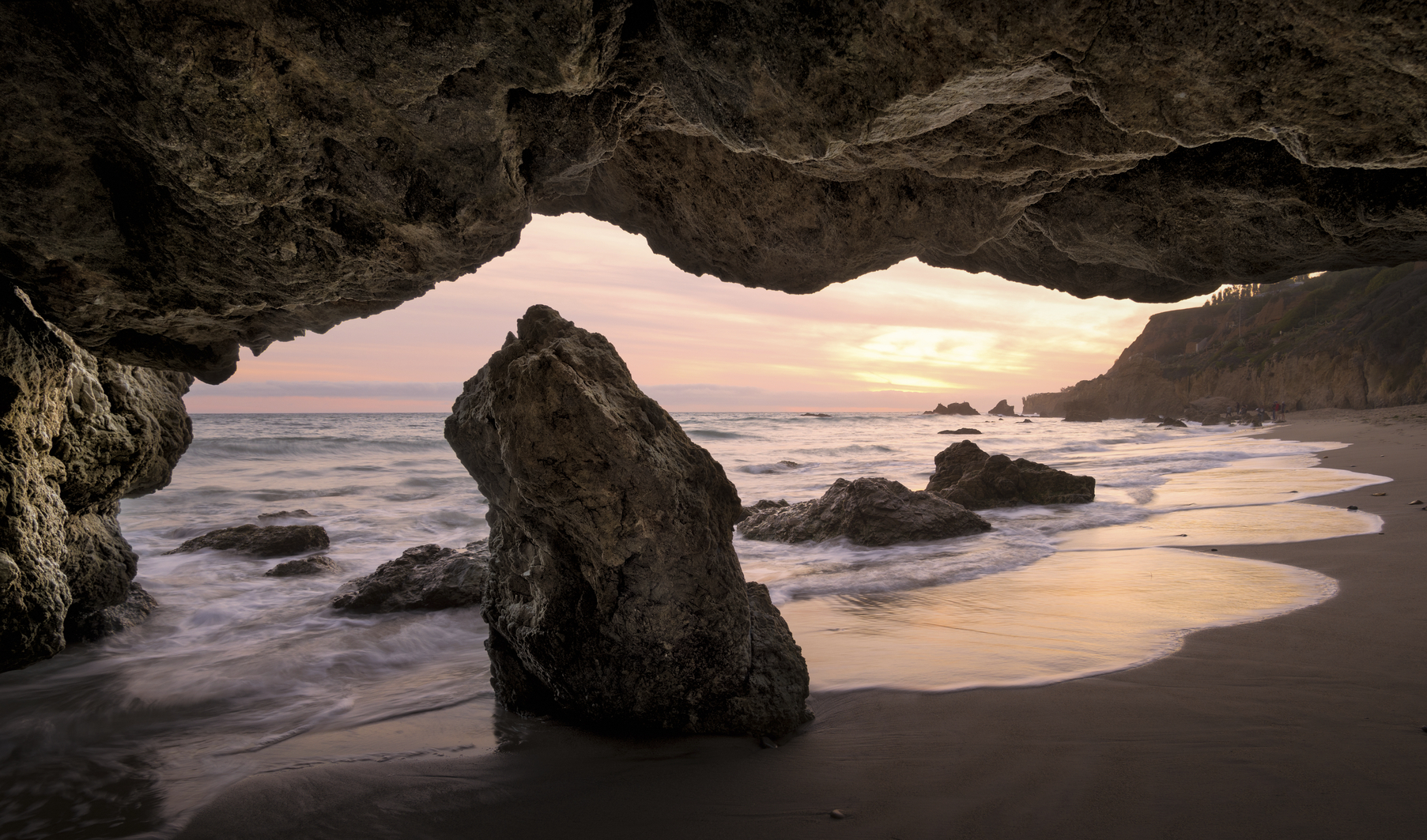 Far from the hustle of Hollywood, this strip of white sand is one of many small beaches that comprise the Robert H. Meyer Memorial Beach. El Matador beach boasts a long, wide, sandy beach with a dramatic seascape of caves, large rocks, eroded sandstone pillars called "sea stacks," and towering cliffs.
There are two gated secluded communities that share access to the beach, each having its own homeowner's association. Beach access is also gated, which protects the communities from beach goers entering the neighborhoods. There is a deep shelf on the ocean floor just past the sand that makes the water rough on high surf days. However, for the adventurous and skilled surfer, there is a short but sweet break a short paddle out. On low tide, it is possible to walk from El Matador all the way to Broad beach and back.
Homes range from small cottages to large architectural masterpieces. Mostly, the lots are small with limited privacy. But the views from the cliffs are spectacular as they look down on large boulders, deep blue water, and dense kelp forests. The sunsets are equally stunning. Many dramatic photographs have been taken at this location.
Public access to the mean tide line is via El Matador beach, through a dirt trail and then a winding, steep staircase descending the bluff to the beach.
Encinal Bluffs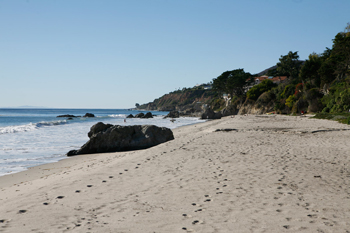 The Encinal Bluffs neighborhood is west of Broad Beach and El Matador State Beach. Estates here are large and include acreage overlooking the ocean. Privacy, stunning views, and some of the most expensive seaside villas in Malibu are located in this area.
Leo Carrillo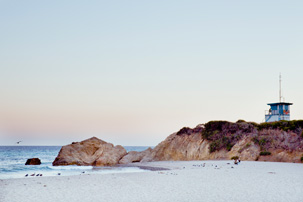 On the 35000 block of the PCH is a beach with awe-inspiring coastal caves and reefs. On windy days, adventurous kite-surfers use this beach as a starting point. There is also swimming, kite-surfing, camping, hiking, and surf fishing in this western Malibu location.
The retreat-like rural estates nestled in the hills of this part of Malibu boast extraordinary views and access to unique and stunning beaches.
County Line Beach
On the far west end of Malibu lies the well-known destination surfing location County Line. Beach hideaways are located nearby but rarely appear on the market. The exclusive enclave Marisol Estates, a private Luxury Malibu paradise community of 80 acres is comprised of 17 extraordinary architectural bluff houses and lots.
There are also beachside condominiums in this area.