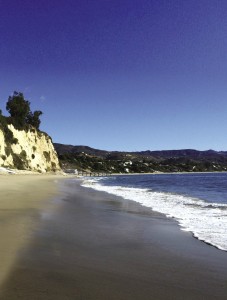 TO VISIT MALIBU IS ONE THING. TO LIVE HERE IS QUITE ANOTHER.™
There is no doubt buying a home in Malibu, whether it is your primary residence or your vacation home, is an important decision. Choosing the right realtor to assist you in the purchase of your home is equally important. With Susan on your team working alongside you, you have the best chance of making the right choice. Susan's extensive knowledge of Malibu and her expertise in buying and selling homes is an asset that you need to reach your goals.
EXPERIENCE A DIFFERENT KIND OF REAL ESTATE PARTNER — A PARTNER DEDICATED TO YOUR SUCCESS.
Why choose Susan? Buyers seek out Susan because of her outstanding representation and her supreme knowledge of the Malibu market. There are many concerns that are unique to Malibu. Issues—like septic, geology, due diligence on beach and bluff properties, flood elevation certificates, drainage, beach rights, surveys, tree preservation rules—all require specialized knowledge. Susan knows the intricacies of the different neighborhoods and how to navigate the myriad of issues that arise when purchasing a home. Even before making an offer, Susan often provides buyers with a comprehensive comparative marketing analysis to determine the right offer price. Then, she fearlessly and tirelessly works on behalf of her clients to negotiate the deal and the terms of sale.
Susan brings to her work a results-oriented approach:
In-depth knowledge of Malibu Real Estate
Extensive business background and corporate experience
Over three decades of negotiating successes
University of Pennsylvania education in business and sociology
Devotion to discretion, client loyalty, and building enduring relationships
Susan is successful because she listens to her clients, asks the right questions to help them achieve their goals. From negotiating the right price to managing the transaction, Susan provides her clients with a hands-on approach and guides them through the lengthy and often complicated escrow process to close a deal in a timely and effective manner.
"I know Malibu intimately. When clients come to me, they are depending on my specialized knowledge, my expertise of the area, and my discretion. Most Buyers want to maintain their privacy and expect confidentiality. In order to be successful together, the agent and the client need to trust each other."
-Susan