Big Rock Mesa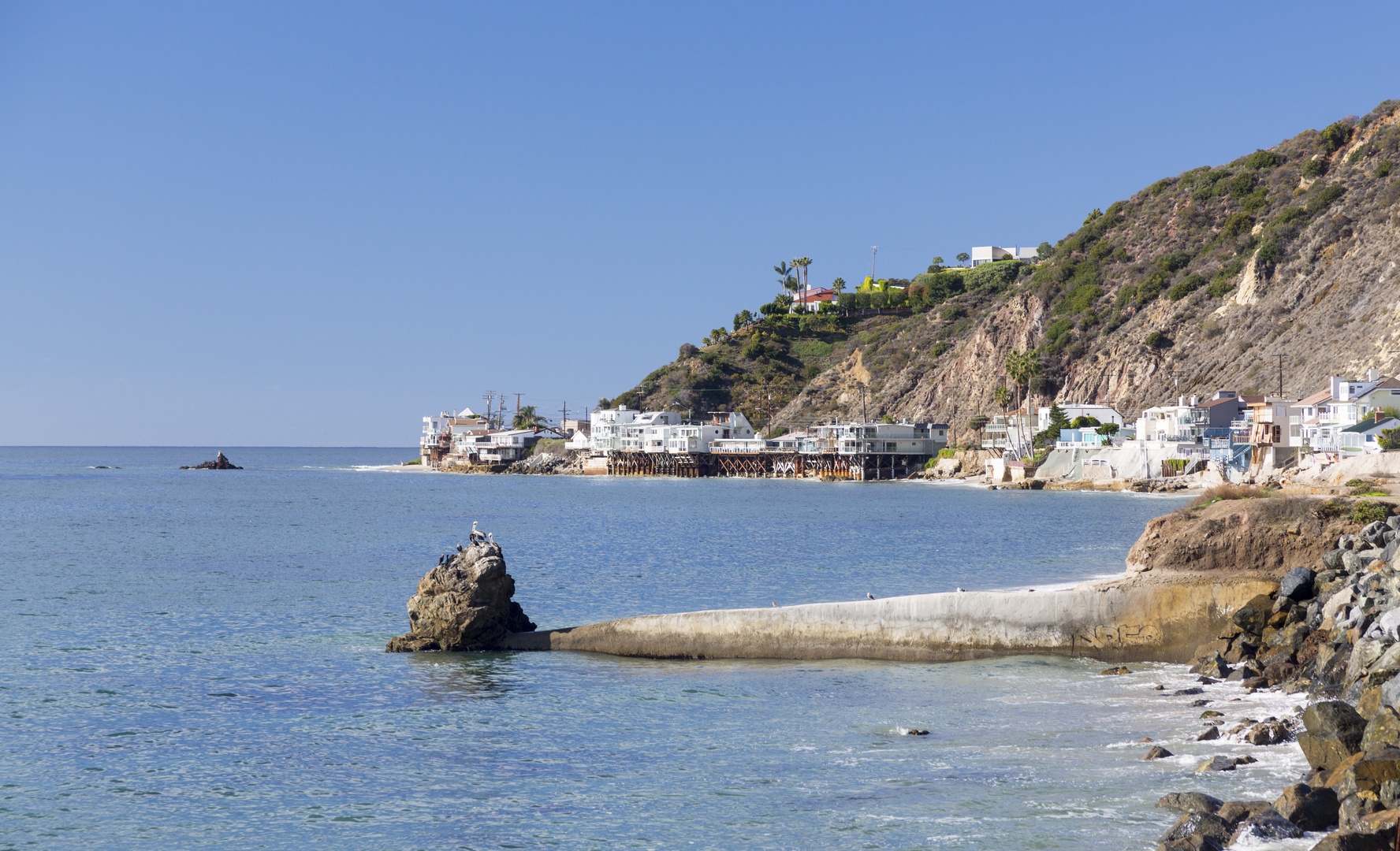 A series of hairpin turns ascending a steep hill bring you to the terraced Big Rock Mesa neighborhood, an area of beautiful homes and gardens high on a bluff overlooking the Pacific Ocean.The area has sweeping views of the Malibu Shoreline, Santa Monica Bay Coastline, and Catalina Island.Home density varies: some are isolated, some are in neighborhood-like areas. Trees and shrubs are plentiful.For commuters, Big Rock Mesa is among the areas closest to Santa Monica.
La Costa Landside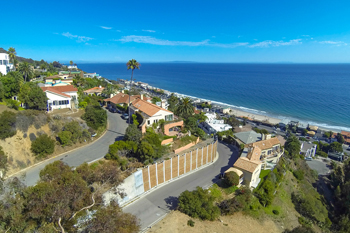 A hillside enclave with most of the homes having extraordinary views. This area is noted for its close proximity to Santa Monica and access to La Costa Beach. Residents here have the opportunity to join the La Costa Beach and Tennis Club.
Carbon Mesa
Amidst a bucolic hillside setting, Carbon Mesa neighborhood homes are spaced widely, enveloped by trees and gardens. Most are large and have pools and tennis courts. Many of the homes have magnificent coastline views.The neighborhood can only be reached by Carbon Canyon Road which intersects the Pacific Coast highway near the eastern end of Carbon Beach.
Serra Retreat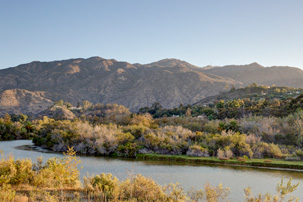 Serra Retreat is a prestigious, gate-guarded entranced community located in a wooded canyon area adjacent to Malibu Creek in Lower Malibu Canyon. It is close to Santa Monica with easy access to Malibu Canyon and the 101. The rural character of Serra Retreat is unique and treasured. Serra Retreat serves as Malibu's historic ranch center with many residents still housing horses.The approximately 100 property owners in this small, secluded area belong to the Serra Canyon Property Owners Association, which was formed to maintain and protect the privately-owned, country road of the canyon community. Residents have easy access to Malibu's Cross Creek shopping area. Bicycles and golf carts are two of the preferred methods of transportation for residents here.
Serra Canyon lots range from under ½ acre to 4 acres, with a few in excess of 4 acres. All but a handful are developed into single-family residences at this time. The homes range from small to large, reflecting the diverse economic and architectural make-up of this special Malibu locale.
Malibu Knolls
The Malibu Knolls neighborhood consists of sixty-five residential parcels situated on a crescent-shaped area above and surrounding the Civic Center Area.All of the homes front on dead-end streets which can only be accessed from Malibu Canyon Road.
Most homes in Malibu Knolls have an unobstructed view of the Santa Monica Bay from Palos Verdes to Santa Barbara Island and the Malibu Civic Center. The physical terrain creates an amphitheater where the residents are the audience to the sights, sounds, and any other activity that emanates from the Civic Center.
Malibu Country Estates
Malibu Country Estates is an enclave of single family homes north of Pacific Coast Highway and adjacent to the western border of the Pepperdine University campus. It consists of approximately 107 lots.Malibu Country Estates has paved streets, sidewalks, public water supply, storm sewers, street lights, and the amenities and feel of a suburban community, which is unusual for rural Malibu. Some of the homes have extraordinary views of the Pacific ocean and Malibu coastline.
Sycamore Park
Sycamore Park is a quaint neighborhood nestled against the Santa Monica Mountains with underground access to Escondido Beach. This area is noted for its gorgeous, mature, and protected Sycamore trees. Via Escondido branches into Sycamore Meadows Drive and Sea Vista Drive, both tranquil and lovely neighborhood streets with small cottages, hidden architectural gems, and large lot estates. Several side streets lead to quiet and cozy retreats, some below sea level and others high up, with spectacular ocean views. Some houses here have rights to the neighborhood tennis courts.
Winding Way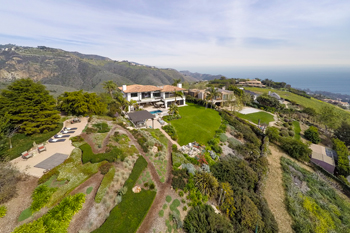 Winding Way and West Winding Way are a community of luxurious estates and horse properties located in mid-Malibu across from Paradise Cove. Homes here are noted for their large, multi-acre lots, with many having sweeping views of the Malibu coastline from Santa Monica to Point Dume. Business leaders, entrepreneurs, celebrities, and equestrians seek out this neighborhood for its central location and tranquility.Winding way also provides access to a popular hiking trail, Escondido Falls.
Ramirez Canyon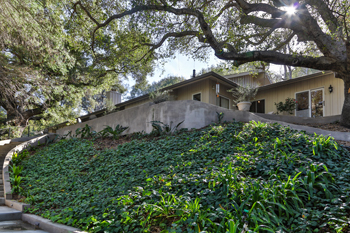 Ramirez Canyon is a 2,880-acre watershed located between Kanan Dune Road and Escondido Canyon. Ramirez Creek is a significant Blue Line Stream with a thriving native riparian habitat lining the creek, and includes many native tree species of oak and sycamore.Ramirez Canyon Road, accessed at the Paradise Cove, is a private road that is gated at the Winding Way and Paradise Cove entrances.
The topography of the area ranges from the stream bed and flood plain area, to steep mountains. The canyon has a relatively small floor, bounded by steep hills on both the east and west sides. Homes in this area are eclectic and rarely have ocean views but are in close proximity to Paradise Cove beaches. Ramirez Canyon is reminiscent of a sleepy neighborhood from the past.
Bonsall Canyon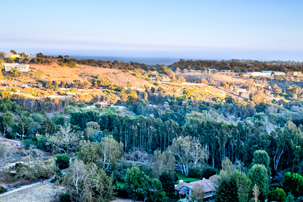 Made famous by actor Michael Landon, this horse-friendly street and neighborhood has attracted A-list celebrities and residents looking for privacy in a quiet canyon setting. There are some wonderful, flat acreage properties with a mix of newly-renovated homes and original cottages. This area is close to the Santa Monica Mountain trail system, which includes miles of hiking with extraordinary views.
Malibu Park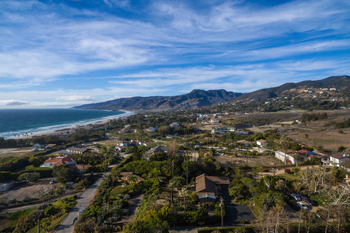 The boundaries of the friendly Malibu Park neighborhood are defined by the four shared and interconnected accesses to the Pacific Coast Highway—Bonsall Drive, Busch drive, Morning View Drive, and Guernsey Drive.The neighborhood is close to Zuma Beach, the newly renovated Trancas Shopping Center, and miles of hiking and riding trails. It is well known for its equestrian properties, ocean views, and lush greenery. Residents are often seen walking dogs or riding horses around this tree-filled neighborhood that has its share of A-list celebrities and musicians. Several local schools—Juan Cabrillo Elementary School, Malibu Middle School, and Malibu High school—are located in Malibu Park, making this area a kid-friendly neighborhood.
Malibu West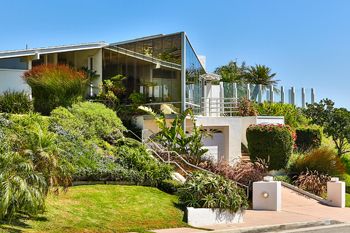 Malibu West is acommunity located close to the beach, schools, and the newly renovated Trancas Shopping Center. It has single family homes and condos. Its roads are private, and all utilities are located underground. Malibu West is a true Malibu-lifestyle community with easy access to the beach and Trancas Market. During Halloween, this neighborhood becomes a mecca for trick-or-treaters because of its flat and grit-planned streets. Homes are on small lots, with a mix of mid-century ranches, authentic cottages, and newly renovated single-home properties.Malibu West is unique for its neighborhood feel along with the broad range of amenities for its residents:
A private beach with a unique Club House for parties and special events, located on the ocean side of the Pacific Coast Highway
Tennis Courts
Scheduled social events
Special events for kids
Trancas Highlands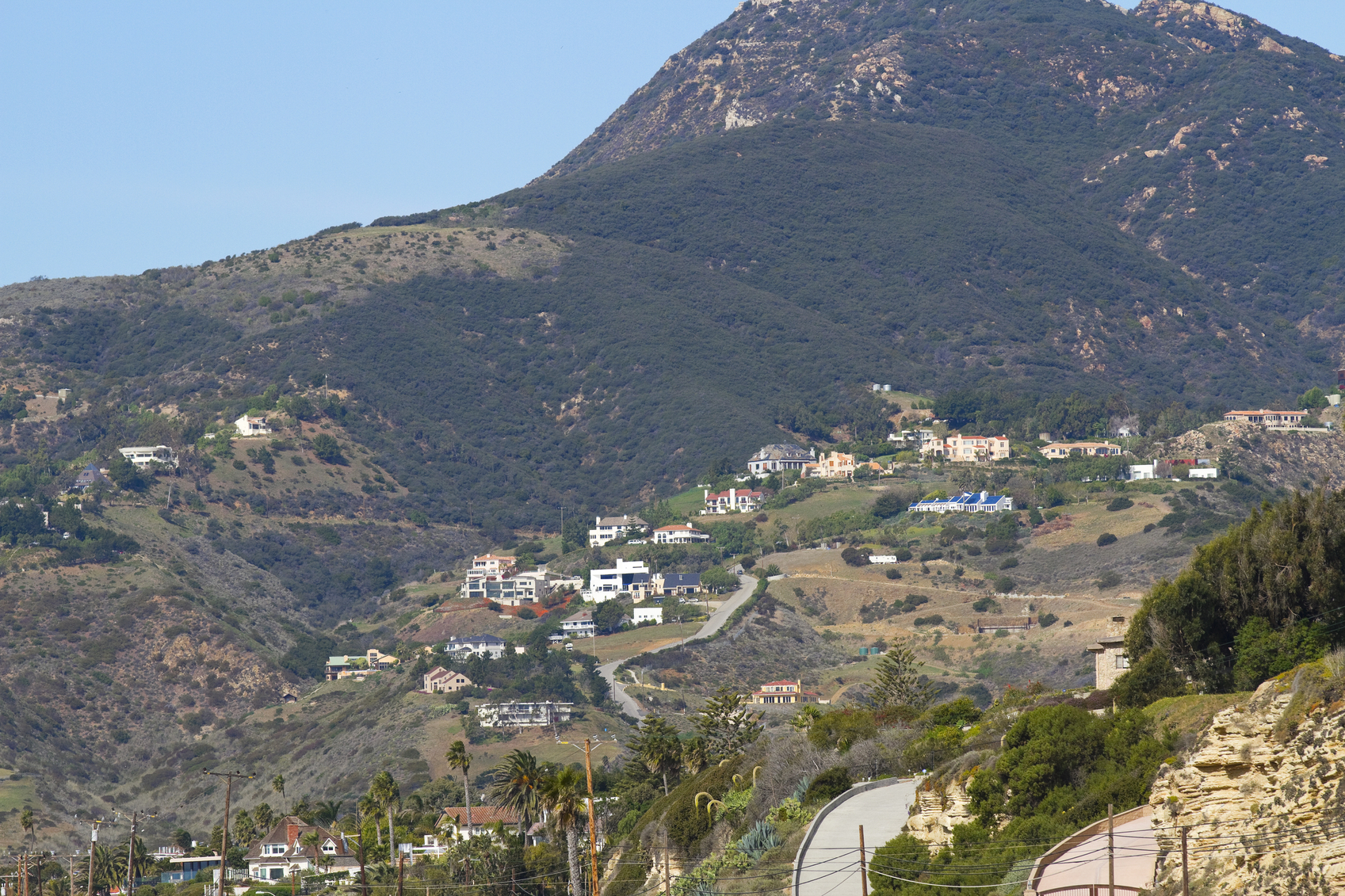 East of Malibu West, this area is comprised of hillside estates with sweeping coastline views. Anacapa View is a gated community with a mix of new architectural homes and old Malibu ranch homes and cottages. Malibu's only dog park is located nearby at the newly renovated Trancas Park. Trancas Highlands is close to the Trancas Market and Zuma beach.
Broad Beach Landside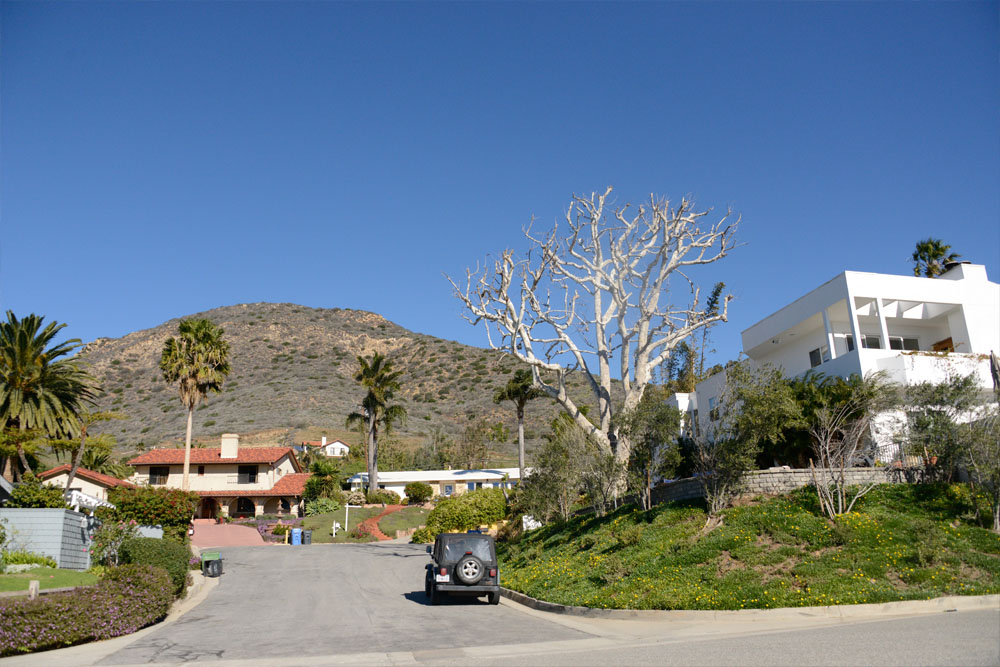 Dotting the hillside above Pacific Coast Highway are numerous homes and estates layered and landscaped to provide views and privacy to the homeowner. Many of these properties have been custom built over the years providing a wide range of architecture.
Encinal, Decker & Mulholland Canyons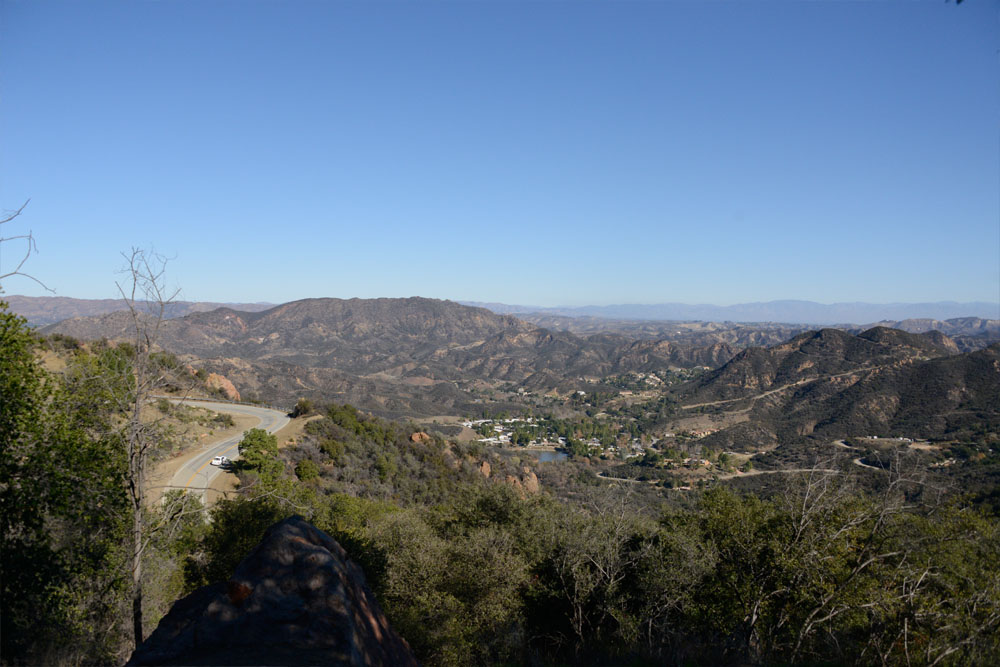 Encinal, Decker, and Mulholland all begin at Pacific Coast Highway and weave their paths through the incomparable Santa Monica Mountain Range merging and crisscrossing each other along the way. Decker can lead you through the mountains to Westlake Village. Mulholland wraps around to Kanan Rd, one of the main canyon arteries from Malibu to the 101 highway and the San Fernando Valley. The mountains are full of treasured hideaways, equestrian properties and estates on multiple acres including a plethora of vineyards of well-known local winemakers. This area is a world away from the hustle and bustle of city living.
Yerba Buena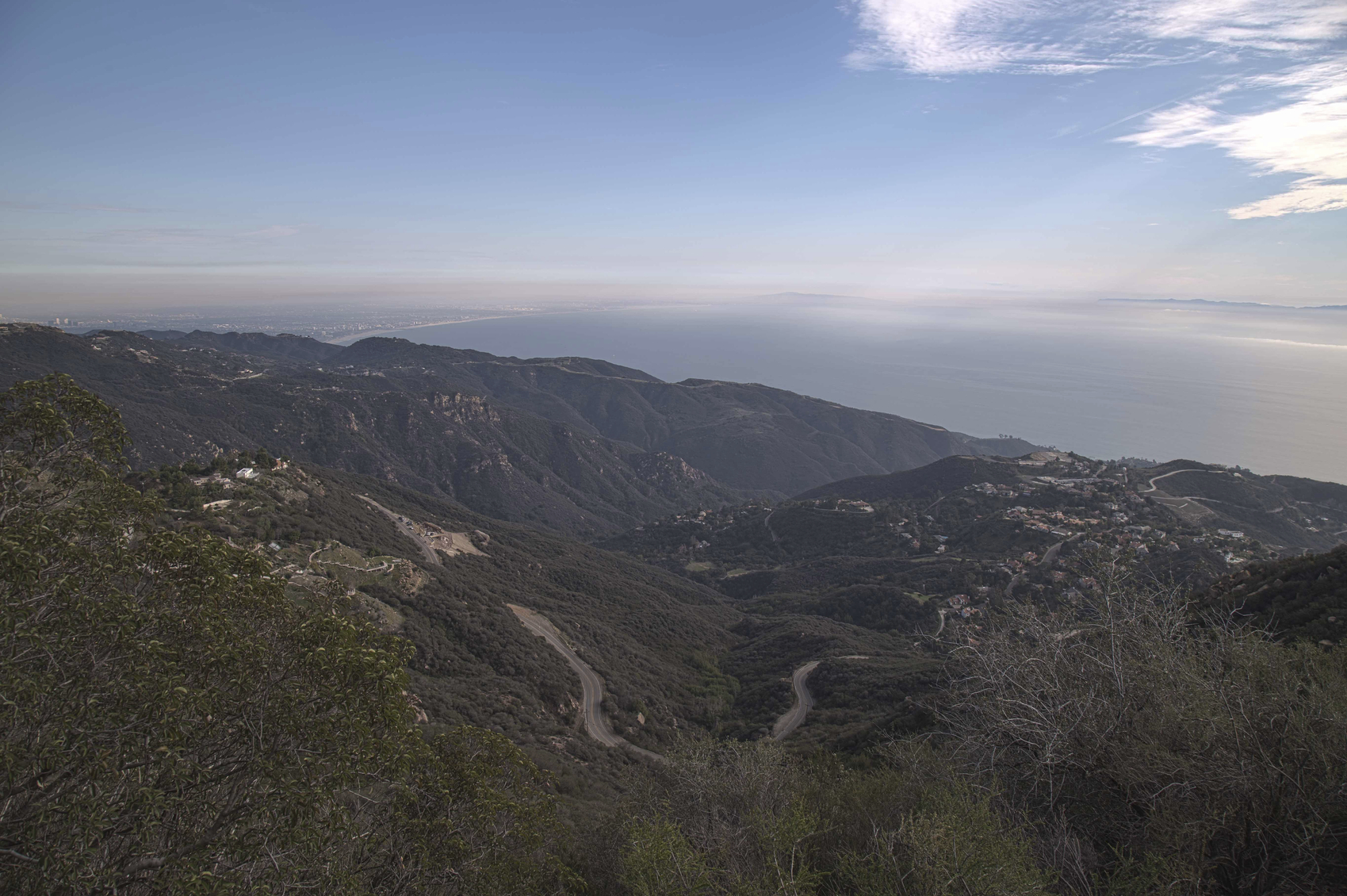 Yerba Buena starts its ascent into the mountains just beyond the famed Neptune's Net Restaurant, home to the biker community traveling the 101 and locals who greatly appreciate the casual ambience and lore of the restaurant. Yerba Buena steeply winds into the mountains and provides a level of beauty and tranquility that takes you to another place visually and sensually. The homes and estates are dotted throughout the area of wide open spaces.